BABYGROUP Leaders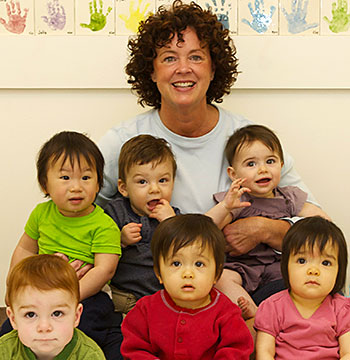 Donna Holloran, MSW
I grew up in Indianapolis, Indiana…the oldest of 6…surviving 4 active brothers. I sure learned a lot from them!! 😉 Yet, it was my sister's short life that touched me the most. She was born with Down's Syndrome when I was 13, and passed away 4 years later. She is the Angel on my shoulder every day…reminding me of the vulnerability, the anxiety and the passion that all parents have for their child.
Thus, I decided to pursue an education that would take me down a specific path. I graduated from IUPUI (Indiana Univ-Purdue Univ at Indianapolis) with a degree in Psychology and Child Development. I then moved to Los Angeles in 1984 with the dream of attending graduate school at UCLA. Along the way…there was more hands-on learning as a nanny to twins…and many stints as a "baby nurse"…all adding to the quality of my life experience. And then…on to graduate school at UCLA where I received my Master of Social Work in 1994. Additionally, I am a Certified Infant Mental Health Specialist and a Certified Infant Massage Instructor.
While I have a lot of education and life experience, I continue to be humbled by the parents who place their trust in me. I am passionate about child development, and commited to helping parents better understand the antics of their little ones. I know that parenting is hard…even on a good day. We have to live through the phases so we can better enjoy the moments…
I feel so grateful that for 24 years, I was able to sit on the floor surrounded by parents with their little ones…who would play all around us. Parents always say they learn so much from me…yet I am the one who has learned so much from the parents and their littles…just so much!!! I look forward to all that is to come…
I joined BABYGROUP in 1999, when my son was 6 weeks old! I enjoyed my experience so much that I decided I wanted to specialize in working with parents of young children. Given that I had been practicing as a Licensed Marriage and Family Therapist for several years, I began to devote my time and training to learning more about the developmental needs of young children. I was enjoying my experience as a new mom and wanted to support others who were struggling with similar issues…balancing marriage and career with motherhood, while wanting to take time to marvel at the miracle of these developing little people.
I am grateful to have this opportunity to work with so many families and to have been with BABYGROUP for more than 20 years to facilitate both infant and toddler groups, as well as groups for parents who have more than one child. I enjoy watching groups come together, develop friendships, and gain skills and insights that help them become the calm, compassionate and knowledgeable parent they want to be. In addition to leading groups at BABYGROUP, I have a private practice where I meet with individuals, couples, and families, as well as parent-only groups.
---
BABYGROUP Staff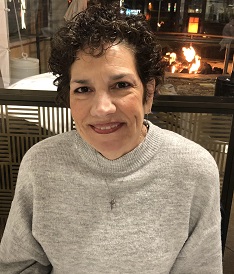 Denise Geltz is our Babygroup Office Manager.
After earning a degree in Elementary Education, I met Donna when I moved to California and we have been friends for over 31 years. I joined BABYGROUP as a mom after my first child was born in 2000, and then joined the 2nd time parent group with my son in 2002. I am now grateful for the opportunity to help other parents experience the same BABYGROUP "magic" that helped me so much with my own children. I look forward to assisting you on your successful parenting journey with BABYGROUP.